What makes Uzeli the best barbershop software?
Ease of Use
Intuitive workflows make Uzeli super easy to learn as there is no need to memorize a sequence of multiple steps to perform basic tasks. As an example, Uzeli's barbershop booking app does not require clients to create an account to book an appointment. Because Uzeli has removed such friction, businesses that choose Uzeli's online booking system see a higher percentage of online bookings compared to other barber shop appointment software.
Rich Set of Features
Uzeli comes with features for businesses of all sizes - from a single location business to multi-location operations looking for barbershop franchise software. Rather than cramming every feature into one solution, Uzeli is designed to be highly configurable - you will only see the features you want. Most of the POS features are included in every pricing plan.
Automation
Every minute you need to spend managing your business is time that can be spent earning revenue. Uzeli automates repetitive tasks so that you have more time for things. Among other things, Uzeli automates marketing by keeping track of clients that have not returned for certain time and sending them coupons by text messages. Uzeli's automation is often cited as one of the main reasons our clients consider it to be the best pos system for barbershops.
10x Return on Investment
Uzeli is a much better barber shop management software compared to others that promote themselves as "free barbershop software". First - companies that market themselves as free barbershop software never are. They either sell your data to make money or have hidden ways to charge you down the line. Second, if you had to choose between a free barbershop software or a different one that helped you get 100 more customers each month, which one would you choose? Uzeli's built-in text message marketing generates more money for your business each month. Uzeli guarantees 5X return on investment within 90 days from signing-up and most Uzeli clients make 10x return on investment on a regular basis. If you ever asked "How can I get more customers to my barber shop?", Uzeli is the answer for you.
Reliability
Uzeli is engineered to be reliable as we understand the havoc barbershop point of sale software issues can cause. Uzeli achieves high reliability by keeping third party integrations and device options to an absolute minimum and by developing backup plans in case of outage.
Superior Support
All Uzeli plans include support by Phone, Email and Text. And when you call Uzeli's support number, you won't have to wait in line for ever nor would you have to navigate the options maze. We believe in prompt response and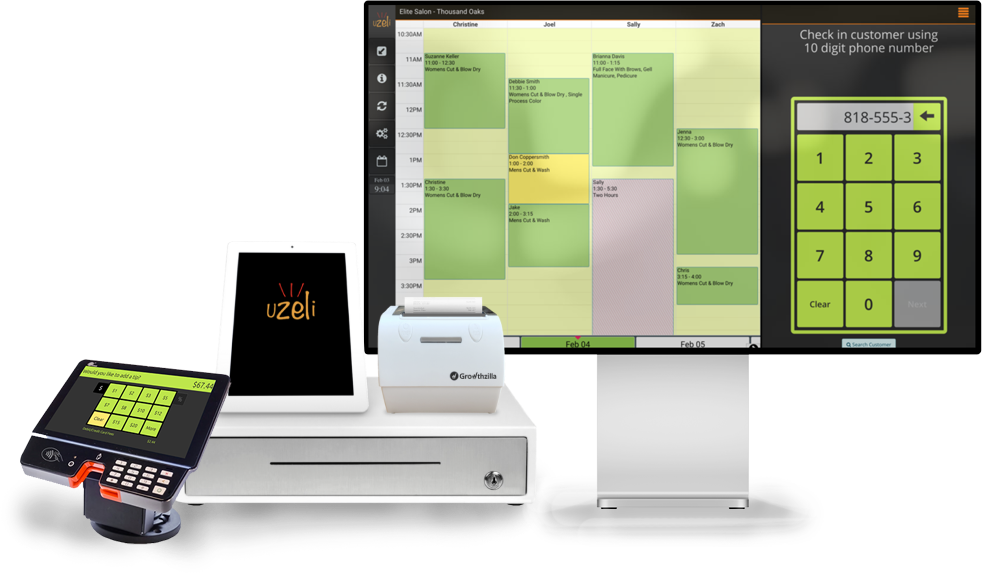 Book a demo today
What features are included with Uzeli?
Online Booking and Text Reminders
Uzeli booking allows your clients to book appointments online 24/hours a day and seven days a week. Frictionless booking workflow that you can link from various social media channels like Facebook, Instagram and Google means more clients book appointments online instead of calling the front desk during business hours. Uzeli also sends reminder texts to clients 24 hours before the scheduled time which greatly reduces last minute cancellations and no-shows.
Staff Management and Scheduling Software
Uzeli allows you to manage your staff schedule with an easy to use drag and drop scheduler. You can also manage which staff have access to what information at a very granular level allowing you to ensure data privacy and security without compromising on features and functionality.
One-click Payroll Reporting
Uzeli barbershop point of sale software keeps track of hours worked, services delivered and products sold by each barber. Uzeli provides a highly customizable payroll calculator that allows you to generate payroll reports in a single click
Gift Card, Package and Membership
Memberships and gift card programs are effective ways to increase client retention and customer loyalty. Gift cards also act as client acquisition tool. With Uzeli, you can sell branded plastic gifts cards with your logo on it and track the remaining balance with ease.
Barbershop Waitlist Management
Uzeli includes a check-in tablet kiosk that allows clients to check-in upon arrival. Clients that already have an appointment go through a one-click check-in process where as walk-in clients can select their services and barbers at the time of check-in. The check-in kiosk also displays wait-times for each barber. Uzeli also includes a feature to display client waiting list on a TV screen.
Customer Data Management
Uzeli barbershop booking software captures customer data during booking, check-in and checkout and organizes it to provide you with client profiles, preferences and purchase history. Customer data in Uzeli can be shared across multiple locations in a network - a must have feature for a multi-location barbershop software.
Client Feedback and Reviews
Uzeli's SmartCheckout solution collects instant feedback from clients after every visit. This information provides valuable insight into whether clients are happy or disappointed after each visit.
Reporting
Uzeli includes a wide range of reports from transactions to appointments and staff performance. On top of the standard reports, Uzeli includes an Excel like drag and drop report builder which saves business owners and managers a lot of time.
Branded Mobile App
Uzeli recently launched a new offering: branded mobile app for clients. The app includes features like scheduling, accessing receipts for past payments.
Branded Mobile App
Uzeli recently launched a new offering: branded mobile app for clients. The app includes features like scheduling, accessing receipts for past payments.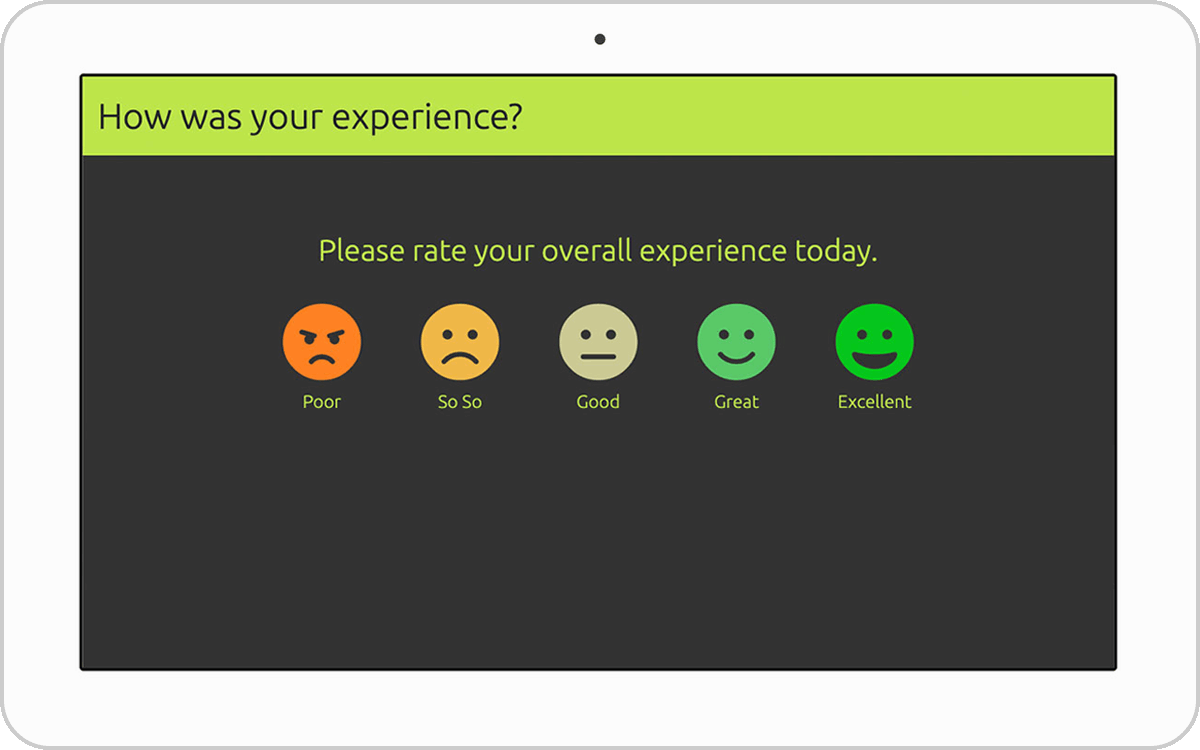 Book a demo today
Frequently Asked Questions
Yes! all the above features come with 90 days refund policy. If you are with Uzeli and decide to cancel within 90 days, we refund 100% of your payments.
Yes! Uzeli subscription includes free access to our online education portal and we provide free training on how to use the software to grow and manage your business.
Yes, it does! All of these features come with a sleek checkout system that is perfect for accepting all major credit card types and supports Apple Pay and Android Pay.
Once you sign-up with Uzeli, you can get started within a week.
Absolutely! We have a data import and migration service that will help you move everything over to Uzeli without any additional cost.
Uzeli's monthly price depends on how many devices you want to use at your business. The Solo, plan which only includes a single device as the POS unit, starts at $99 per month and includes 1000 text messages. Uzeli Duo includes a POS device and an additional check-in or SmartCheckout device and is priced at $139 month. Our most popular configuration - Uzeli Duo + SmartCheckout includes 2000 SMS messages per month and is priced at $169 per month.
Yes, we offer ongoing support and training. Growthzilla's online education also makes it very easy for new associates to learn and use Uzeli.